America is Facing a Food Crisis Greater than we have seen in many years. The war between Putin and Biden may cause food shortages this coming winter and the prices the farmers are facing just to operate and stay in business has not been seen in decades.
Prepare yourself and your family's needs with the help of
David Jones Farm
All-natural turkeys and chickens
Tell them Blupela Media sent you to enjoy their quality and reputation
Are you tired of serving those factory-produced turkeys and chickens that are high in price but low in flavor? Isn't it time you treated yourself to delicious farm-raised poultry?
The fowl at David Jones Farm are all natural, free roaming, and fed with the highest quality grains.
" My grandfather used to say that once in your life you need a doctor, a lawyer, a policeman and a preacher, but every day, three times a day, you need a farmer."
— Brenda Schoepp
David Jones brings a lifetime of experience to his farm.
On a fall day in September we first met farmer, David Jones. He rode in a tractor filled with heaps of wet sweet corn. Hundreds of white and yellow ears had been hand-picked fresh that morning. This corn grew on the same farm that David's grandfather, Clarence, and his father Carl, had worked since the 1940s: The Jones Farm.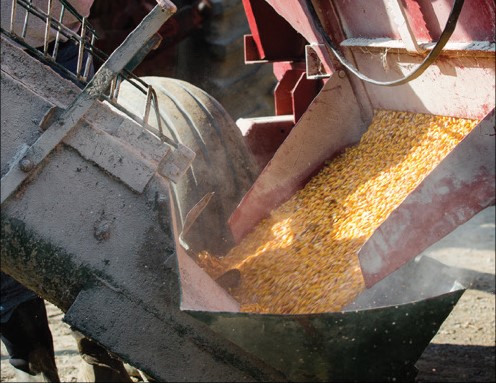 The Jones Farm is located on a winding country road about an hour outside of the City of Pittsburgh. It is a treasured piece of land, cared for with the love and admiration of a man who has worked on the farm since a young age. While opening the gate to show me a his new baby chicks, Mr. Jones joyfully explained,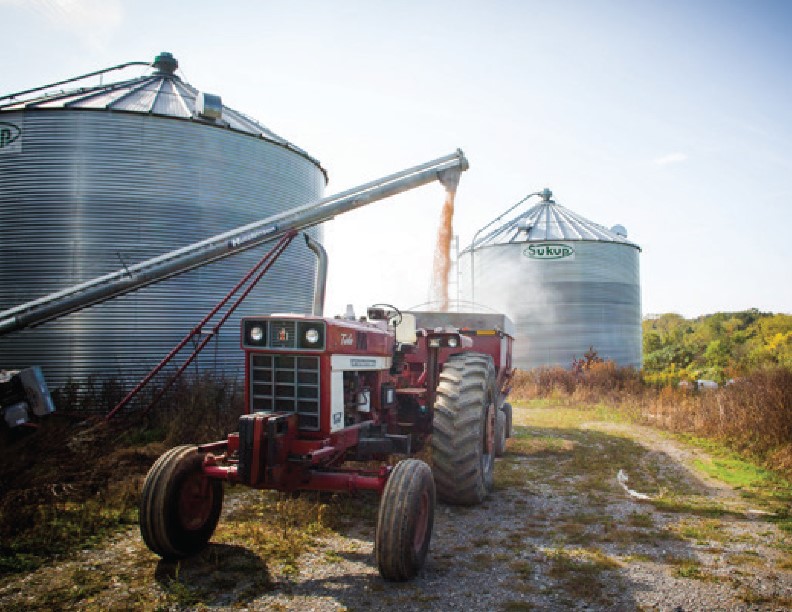 "I wanted to help my father, so when I was about five, I climbed upon my first tractor." Mr. Jones grew up on the farm along with his mother, Katherine, sisters, Margie and Becky, and brother Bill. Today, Margie's son,Richard, raises beef cattle on the farm, while Mr.Jones continues to grow sweet corn and raise turkeys and chickens. When asked about his favorite part of the job, Mr. Jones eagerly expressed, "I love helping to feed America!"
Feeding America is not an easy job, however, farm and ranch families comprise just 2% of the U.S. population. Unfortunately, since 2013, America's farmers and ranchers have weathered a 45% drop in net farm income, the largest three-year drop since the start of the Great Depression. The farm sector's debt-to-income ratio is the highest it's been in three decades.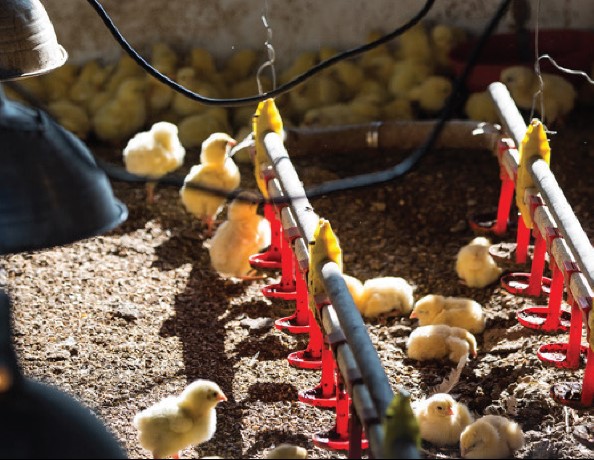 Given these statistics, it is easy to see why Mr. Jones had tears in his eyes as he discussed his fear of the unknown when it comes to the future of his farm. He talked freely about the blood and sweat that has poured into the farm for decades, and the risk of failure that looms overhead every day. He finds strength to continue the career he loves through his faith and relationship with Christ.
Instead of living in fear, Mr. Jones understands that his mission is to find happiness and believe in a bountiful future. This is why, every day, Mr. Jones awakes at 4:00 a.m., and does not rest until 10:00 p.m. As he scooped up a turkey and posed for a photograph, his kindness resonated in his smile. I caught a glimpse of his calloused hands as he set the turkey down gently, and dusted off his jeans. He then explained with a sobering expression, "I need to sell all of these turkeys this year, or I might not be in business next year."
"Our heritage is from Germany and Scotland. Mom's family from Germany , Dad's family from Scotland. Our family farm was started in 1920 approximately. I am the third generation from both sides. Back then in the early 1900's everybody farmed to feed their own family, each generation taught the next and brother taught sister. Past generations played a big part in skill developement. The original farm had pigs, chickens, ducks and cows. Now we only raise organic cows, organic chickens and organic turkeys."
-David Jones
"I ASSISTED MY FATHER AND GRANDFATHERS ON THEIR FARMS BEFORE I STARTED MY OWN. I GOT MY FARMING ETHICS FROM MY FATHER AND GRANDFATHERS , WHO I WATCHED INTENTLY, AND LEARNED A LOT."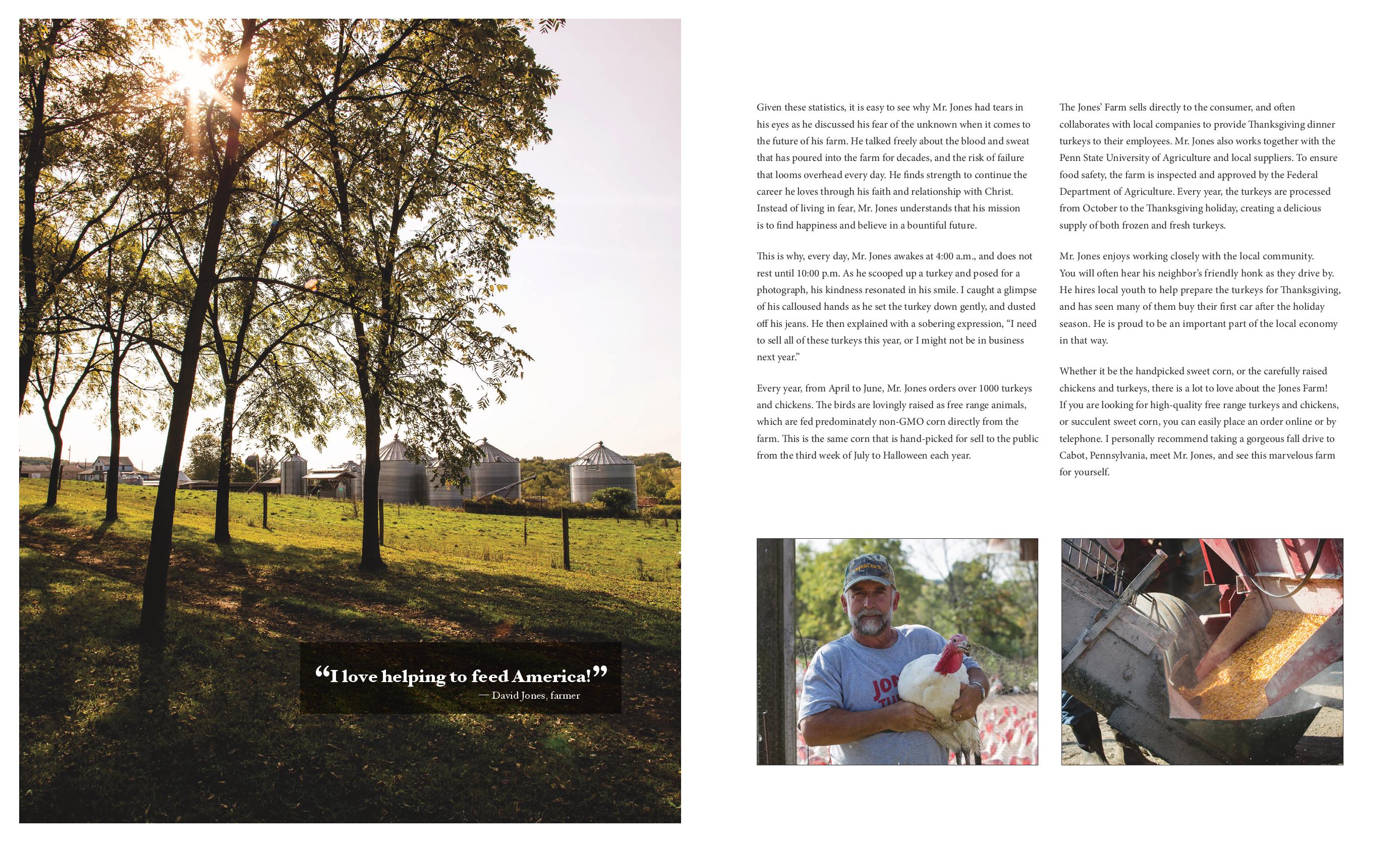 -DAVID JONES
"My earliest and fondest memories on the farm was being taught by my father everything he knew and enjoying it. The most difficult challenges were growing up and having to work when others played. I grew out of that fast."
"The challenges of enduring the weather was overcome by using my faith, that my parents instilled in me, through constant prayer to Jesus. My faith speaks for itself. No farmer can get through life as a successful farmer with out our Lord Jesus."
"THEY DROVE IT INTO MY HEAD THAT SOMEONE IS GOING TO EAT EVERY BIRD OR COW WE SELL, SO RAISE IT THAT WAY. CUSTOMERS ONLY DESERVE THE BEST. MANY FARMERS TODAY ONLY CARE ABOUT THE MONEY END OF FARMING AND NOT ON THE QUALITY."
-DAVID JONES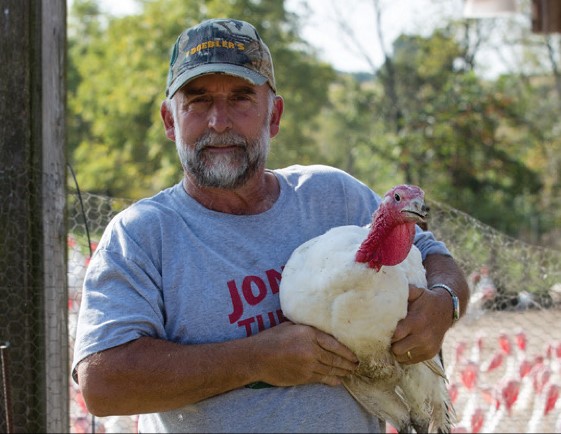 Every year, from April to June, Mr. Jones orders 5000 turkeys and 1000 chickens. The birds are lovingly raised as free range animals, which are fed field corn grown especially for the birds.
The Jones' Farm sells directly to the consumer, and often collaborates with local companies to provide Thanksgiving dinner turkeys to their employees. Mr. Jones also works together with the Penn State University of Agriculture and local suppliers. To ensure food safety, the farm is inspected and approved by the Federal and Pennsylvania Departments of Agriculture. Every year, the turkeys are processed from October to the Thanksgiving holiday, creating a delicious supply of both frozen and fresh turkeys.
Mr. Jones enjoys working closely with the local community. You will often hear his neighbor's friendly honk as they drive by. He hires local youth to help prepare the turkeys for Thanksgiving, and has seen many of them buy their first car after the holiday season. He is proud to be an important part of the local economy in that way.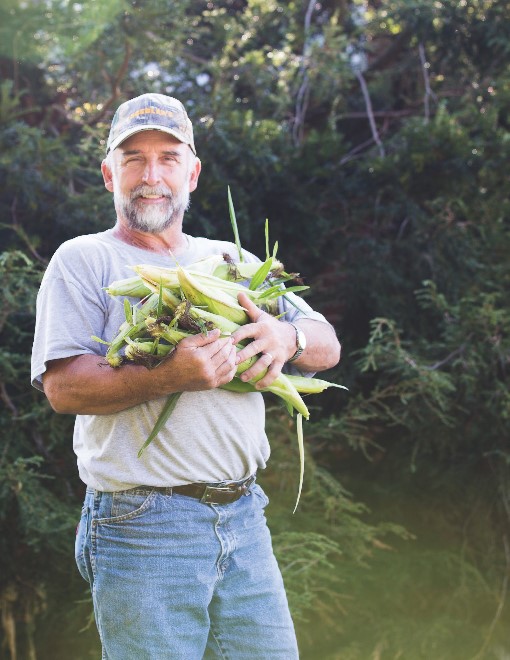 Whether it be the handpicked sweet corn, or the carefully raised chickens and turkeys, there is a lot to love about the Jones Farm! If you are looking for high-quality free range turkeys and chickens, or succulent sweet corn, you can easily place an order online or by telephone. I personally recommend taking a gorgeous fall drive to Cabot, Pennsylvania. Meet Mr. Jones, and see this marvelous farm for yourself.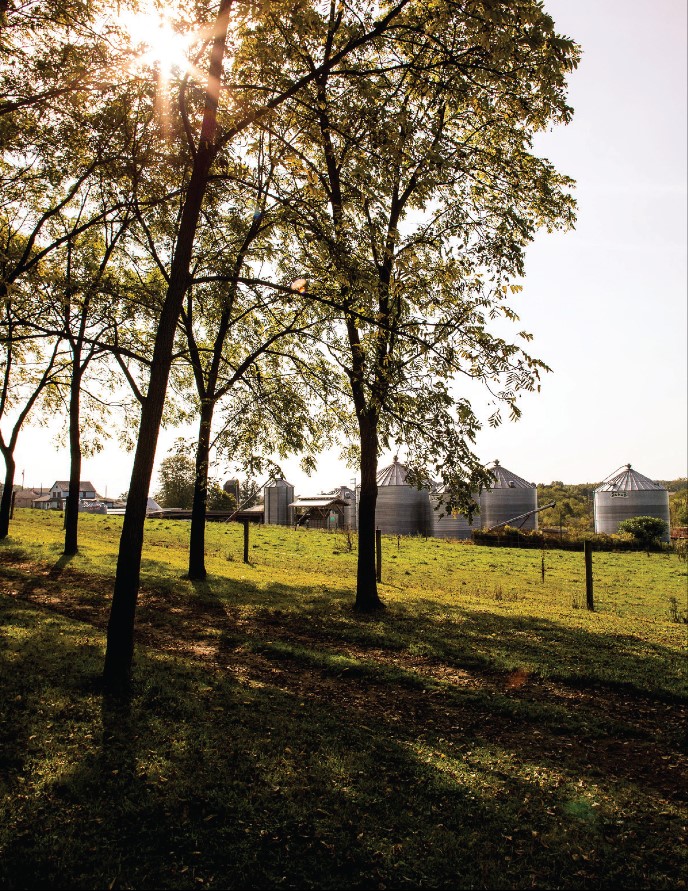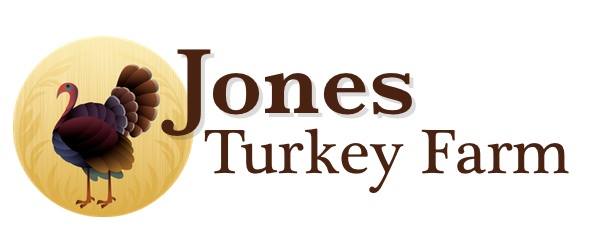 RIGHT FROM THE FARM
Guaranteed premium quality
The original farm grew hay, corn, and sweet corn as well as all garden vegetables to feed themselves, this generation grows hay, oats, field corn, soybeans, and the best sweet corn in the country.
My hours are long most of the year. We get a slight break in February. We work around the clock if needed and sleep and work odd shifts. We do hire some friends to help with the seasonal work.
-David Jones
When you purchase a Thanksgiving or Christmas turkey or chicken from the grocery store, it could have been up to two years in a freezer. Fresh ones could be kept for a while in the store because of the preservatives dumped in them.When you buy from David Jones Farm, you know you're getting the freshest and best-quality meat on the market.
Whether you buy it frosty fresh or frozen, your bird is guaranteed to taste delicious – and the best part is, they're available all year!
BRIGHTEN YOUR TABLE

Take your pick – purchase a delicious whole bird, breasts, or thighs.
Choose Your Favorite:
Fresh Turkeys
(Only available on butcher days)
Frosty Fresh Turkey
Frozen Turkeys
Frozen Chicken
Thighs and Breasts

Farm-fresh poultry
Delight your family with the best-tasting all-natural turkey and chicken all year round. Choose from frosty fresh or recently frozen whole bird turkeys and chickens, or select breasts and thighs. All poultry is raised free-range and fed only the highest quality grains.

Holiday Orders
Reserve your favorite holiday dish today
What are Thanksgiving and Christmas without turkey? Instead of rushing to the grocery store at the last minute, why not set aside a fresh, farm-raised bird today?
David Jones Farm supplies premium-quality poultry that is sure to delight your family all throughout the holiday season.
Avoid the rush
Your holiday turkey order from David Jones Farm is guaranteed to be of the highest quality. Call today to place your order!
724-352-0063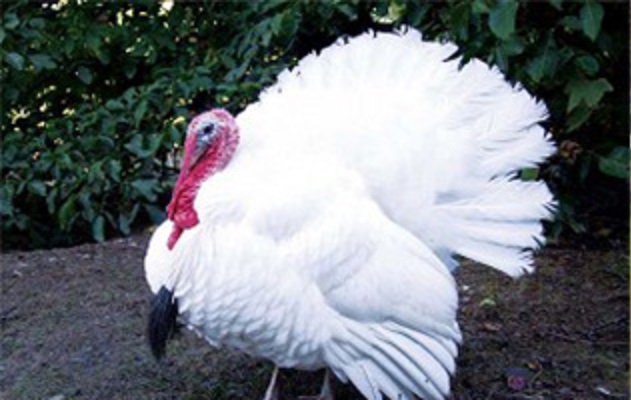 Poultry Explanation
"MY TURKEYS ARE HEALTHY AND MORE NUTRICIOUS , BECAUSE WE TREAT THEM LIKE PETS, ANYONE CAUGHT MISTREATING A BIRD NO LONGER HELPS US, WE GROW OUR FEED AND USE THE BEST SEED AND FERTILIZER RECOMENED BY PENN STATE UNIVERSITY, THEY ALSO HAVE ACCESS TO THE OPEN OUTDOORS, THEY CAN ROAM FREELY INSIDE THE BARN AND OUT IN THE SUN AND RAIN 24/7.
OUR CUSTOMERS BASICALLY COME TO US FOR THEIR TURKEYS AND CHICKENS BECAUSE OF THE SPECIAL TREATMENT WE GIVE THEM AND FOR THE FOOD WE FEED THEM AND HOW THAT COMBINES FOR THE BEST TURKEYS ANYWHERE.
WE SELL 75% OF OUR BIRDS FROM OCTOBER TO JANUARY , BUT WE HAVE RECENTLY FROZEN TURKEYS AVAILABLE ALL YEAR."
-DAVID JONES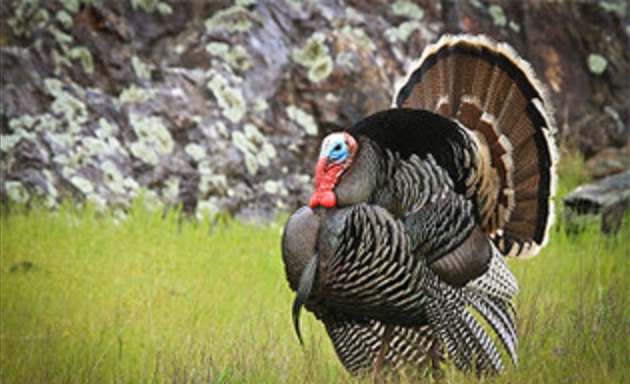 According to studies conducted by Penn State University, fresh, preservative-free turkeys and chickens have a 3-day shelf life when refrigerated at 30 degrees. For most customers, a 3-day time period is far too short of a window to purchase, pick up, and cook their birds, especially since the poultry is kept at our facility for one day to be processed and prepped for consumption, which effectively cuts that 3-day shelf life to 2 days off the bat.
Our Frosty Fresh poultry are stored at 25-26 degrees and have a shelf life of one week. Frosty Fresh birds are easily defrosted in the refrigerator, though they must be maintained at no warmer than 35 degrees. These birds can be kept at 35 degrees for one day prior to cooking.
Frozen poultry that is stored in a freezer at 0 degrees have a 6 to 9 month shelf life. Our thawing instructions for our Frozen birds can be attained at pick up.
Sweet Corn

Top-notch sweet corn
You've probably heard about the sweet corn from David Jones Farm by now – it's the best known corn on the cob in the entire county!
Call 724-321-4416 for directions to our exact locations!

The perfect side dish
When planning a meal during the holiday season or throughout the rest of the year, you can't pick a better side dish than corn on the cob. The ears from David Jones Farm are so good, you can serve them as a meal all by themselves!
You can serve them alongside steak or one of David Jones Farm's signature fresh chicken or turkey. Try it for a picnic, barbeque, or just a tasty summer treat. Don't be afraid to experiment – try boiling, grilling, roasting, and steaming!
Farm-fresh poultry
Frosty fresh turkey to 25 degrees
(We use no preservatives)
Recently frozen turkey
Recently frozen chicken
Breasts and thighs
Holiday orders
David Jones Farm provides an easy way to make your holiday turkey: order online! Just fill out a simple form today.

Order your farm-fresh holiday poultry from David Jones Farm today.
Tell them Blupela Media sent you to enjoy their quality and reputation
Address
David Jones Farm
240 Jones Rd
Cabot, PA 16023
Phone: 724-352-0063
Alternate Phone: 724-352-2450