Tehillim Olumi was founded in 2015 and Baruch Hashem in the past years has grown to an enormous Tehillim group of over 71,000 followers in respect to saying daily Tehillim, & therefore complete tehillim is said hundreds of times every day. Our purpose, is to unify Klall Yisrael איש אחד בלב אחד  to pray together in unity for every ones needs, such as, Heal the Sick, praying for one who needs Shiduchim, Children, Parnassah, Shidduch, Refuah Shelamah, Sholem Bayes, Success in Business, Thanks to Hashem, In Memory Of, or any other needy prayer for.
https://youtu.be/EuCRvHu8__Q
ALL ARE WELCOME TO PARTICIPATE IN THIS GREAT
MITZVAH OF WRITING THIS SEFER TORAH CALLED SEFER HACHAIM, TOGETHER WITH THOUSANDS OF OUR BROTHERS AND SISTERS FROM ALL OVER THE WORLD.
IN MERIT OF THIS GREAT MITZVAH OF כתיבת ספר תורה
AND UNITING US AS ONE FAMILY TOGETHER WITH KLAL YISRAEL, MAY HASHEM BLESS YOU AND YOURS, WITH GOOD HEALTH, HAPPINESS, PROSPERITY, NACHAS, AND CONTINUED SUCCESS IN ALL YOUR ENDEAVORS.
                       Rabbi Meyer Chaim Greenbaum
Founder and Director of Tehillim Olumi – זורע צדקות – מצמיח ישיעות


Rabbi Meyer Chaim Greenbaum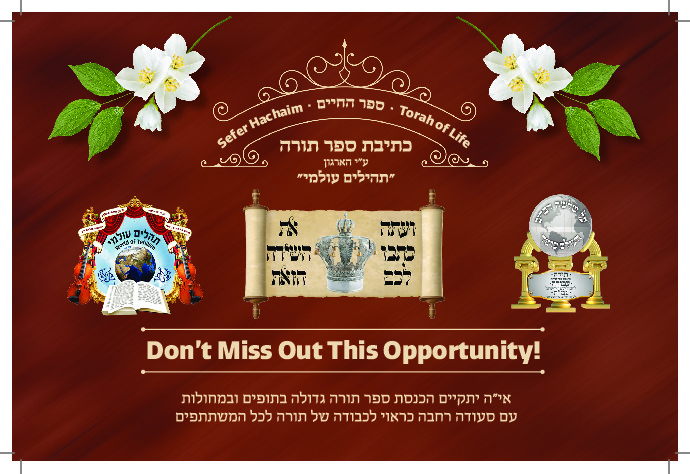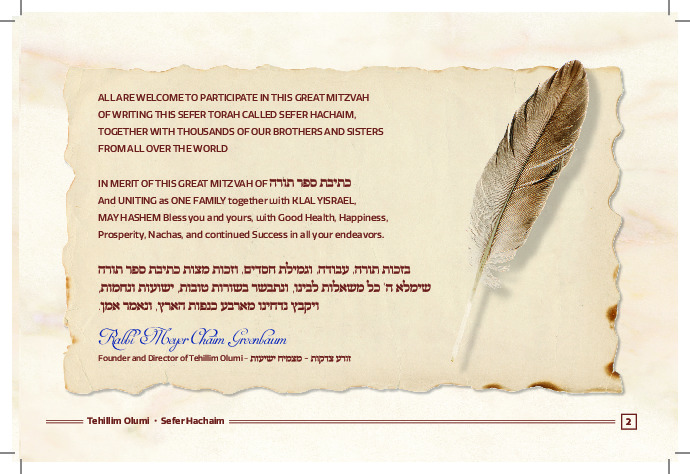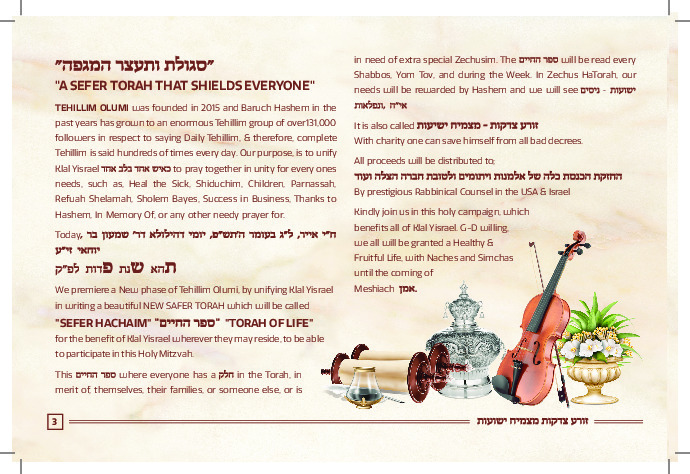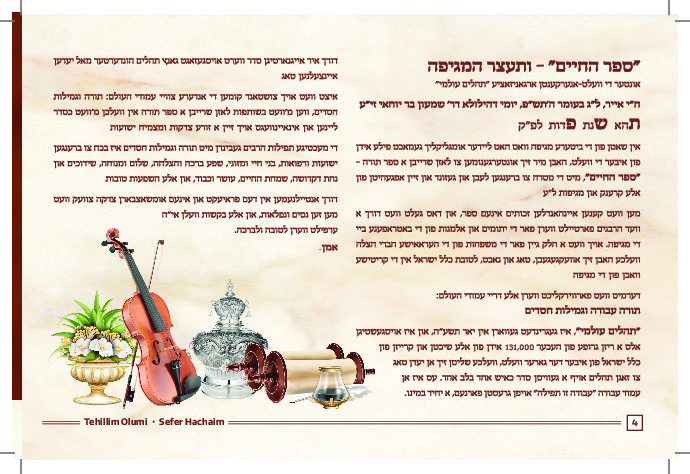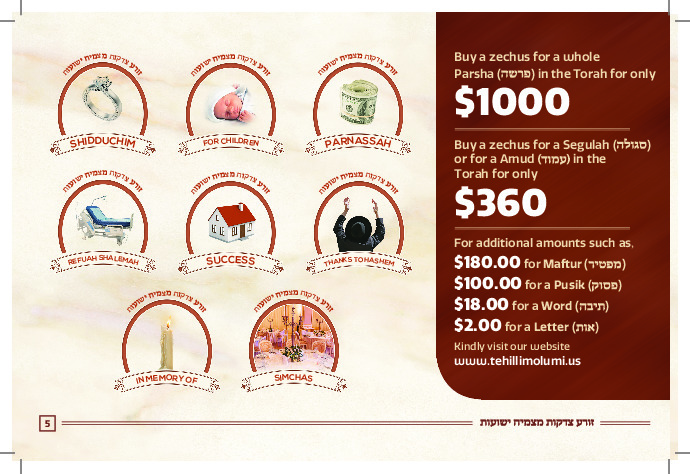 to choose:
A Word, A Letter for all of your needs- only $18 – $180
We Need Your Help!
A complete Parsha- $1000
A Segula Parsha- $360
An Amud – $360
A Pasuk – $100

I trust that you and your family are in the best of health during this critical time of Covid-19.
My family and I are privileged to have such wonderful friends as you. Needless to say, that we hope that our friendship will continue and prosper until the coming of Moshiach.
We wish to extend our friendship and invite you to participate in our Holy Sefer Torah Project.
This will be a Historical Giving of a SeferTorah
A ONE OF A KIND OCCASION
We have embarked on this holy campaign to unify Klal Yisroel
אחד בלב אחד כאיש
We need your support! We need your help!
By donating towards the purchase of a portion in our Torah called "SEFER HACHAIM", we will fulfill the Mitzvah of writing a Sefer Torah on behalf of the many children who lost a parent because of the Covid-19 pandemic. This Sefer Torah will serve as an everlasting memory to their neshomos.
 All Donations can be dedicated in Honor or In Memory of your loved ones.
 In the merit of this great Mitzvah, may HASHEM bless you and your family with Good Health, Happiness, Prosperity, and continued Success
in all your endeavors.
THANK YOU ALL,
WITH BRACHA & HATZLACHAH
Rabbi Meyer C. Greenbaum
Founder of
Tehillim Olumi
Fax : 718-569-6886