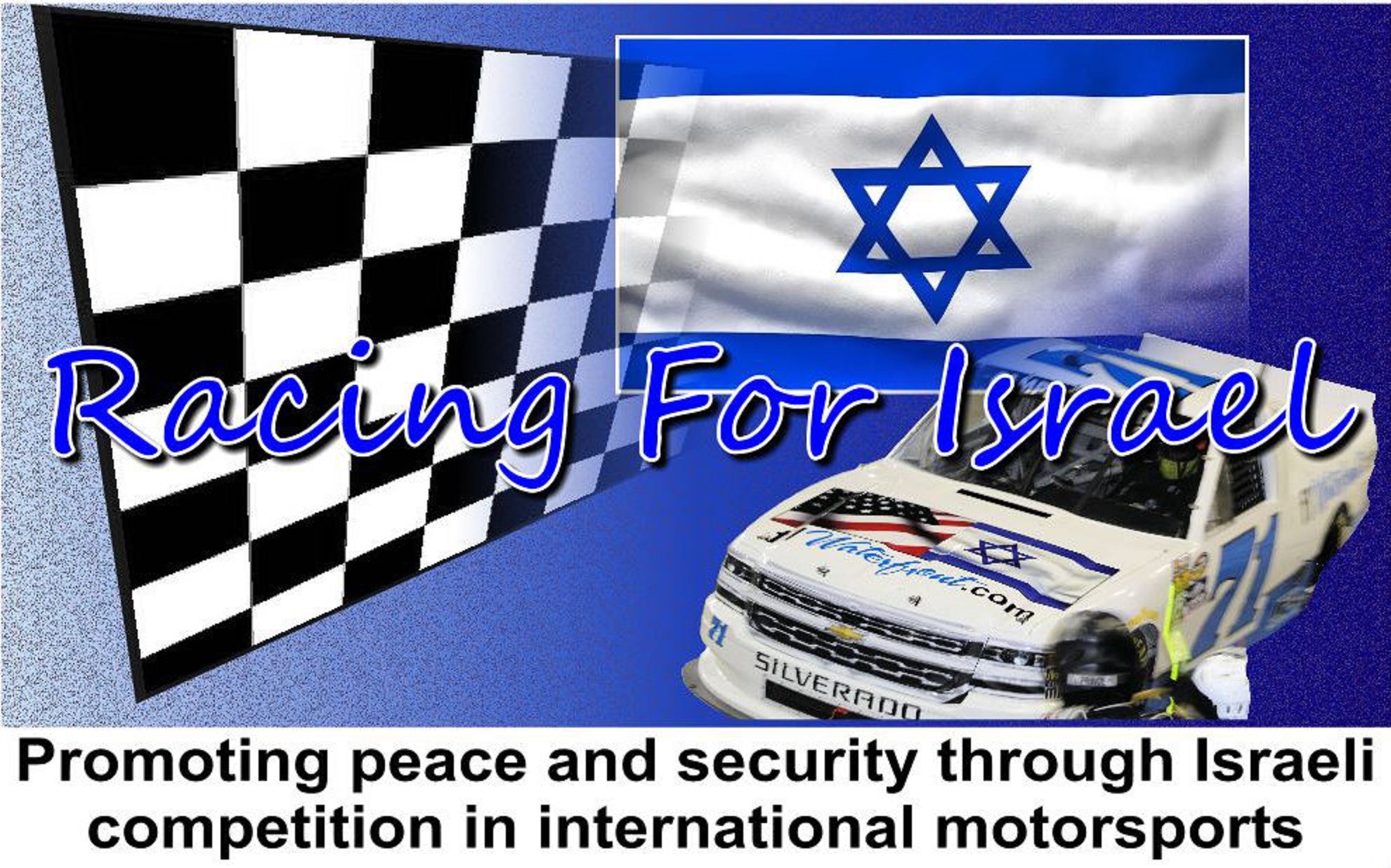 Athletic competition, including motorsports, offers an opportunity to establish contacts between nations in conflict, promoting dialogue and reconciliation.

​The promotion of amateur motorsports in the State of Israel creates opportunities for Israeli young men and women to compete internationally in one of the most popular sports in the world.
ALON DAY REPRESENTS RACING FOR ISRAEL AS ITS TOP ELITE DRIVER

Alon Day was crowned 2017 & 2018 Champion in NASCAR's European Series. In all of his international races, ALON DAY proudly displays his allegiance to the State of Israel. He was awarded the title 2016 Israel Athlete of the Year by the Ministry of Culture and Sport.

Alon has raced in sports car competitions in Europe, China and throughout the United States since the start of his racing career. Alon's history began being born and raised in Israel. Alon started racing at nine years of age racing Go-karts on an open road in Israel.
After graduating High School, Alon proudly served in the Israeli Defense Forces serving as a pilot in the Israeli Air Force. Alon loves the excitement, adrenaline rush, and spirit of competitive Nascar Racing Events. He has raced in six Nascar competitions in the USA. He proudly represents Israel and is looking forward to continuing his career as a representative of the Israeli culture and people!

A significant development for the racing industry for Israel was the ground breaking efforts of the Tel Aviv native ALON DAY to obtain "Outstanding Athlete" status from the Israel Defense Forces. This distinction permitted serious athletes to complete their military service while receiving time off for sports training and competition.
ALON DAY was Israel's first motorsports athlete to be recognized as eligible for such status. By that time, ALON DAY had already established himself as a Champion Formula open wheel driver.

​Subsequently, ALON DAY raced in the United States in Indy-style open wheel and GT sports car races, and stock car competition in the National Association for Stock Car Auto Racing ("NASCAR") Whelen Euro Series. Most recently, ALON DAY is the first Israeli to compete in the United States in NASCAR's elite Camping World Truck Series, XFINITY Series, and has competed in the NASCAR's highest level, the Monster Energy NASCAR Cup Series.

Following the expulsion of most of the Jews from the Land of Israel some 2,000 years ago, they were dispersed to other countries. Over the centuries, they established many large Jewish communities in lands near and far, where they experienced extended periods of growth and prosperity, but were also subjected at times to harsh discrimination, brutal pogroms, and total or partial expulsions. Each wave of persecution and violence strengthened their belief in the concept of the "ingathering of the exiles" and inspired individuals and groups to return to their ancestral homeland.

The Zionist movement, founded at the end of the 19th century, transformed the concept of the Jewish return to their historic homeland into a way of life, and the State of Israel translated it into law, granting citizenship to every Jew wishing to settle in the country. Over the years, Israel has continued to receive new immigrants Jewish and non-Jewish coming from the free countries of the Western world as well as from areas of distress, contributing to Israel's economic, scientific, academic, cultural, and religious life.
In addition to a prolific body of Hebrew literature, a significant amount of writing, both prose and poetry appears in other languages, including Arabic, English, French and Russian. In the multicultural Israeli reality today, the Israeli theater is multilingual, presenting theater in Hebrew as well as in Arabic, Yiddish, English and Russian. Theater in Israel is composed of many different elements – contemporary and classical, indigenous and imported, experimental and traditional – with playwrights, actors, directors, and producers of many backgrounds merging the foreign with the local and thereby gradually creating a distinctive Israeli theater. The theater scene is highly active.

The Israeli music scene is diverse, dynamic, and eclectic. It spans across all spectrums of musical genres and often fuses many musical influences ranging from classical, folk, Ethiopian, and Middle Eastern, to rock, jazz, hip-hop, electronic, Arabic, and pop.

Dance in Israel has developed in two directions: expansion of the Jewish folk dance genre; and the establishment of art dance, leading to stage productions created by professional choreographers and performed by trained dancers. Israeli art demonstrates rich and diverse approaches as well as a variety of mediums, including painting, sculpture, photography and video art. Israel has developed a flourishing film industry, with movies competing in international film festivals and winning numerous awards.


Racing For Israel, Inc.
David M. Levin, 2033 Main Street, Suite 600, Sarasota, FL 34237. Phone: 941.366.8100. Email: dlevin@RacingForIsrael.org