Antiques galore
Crown Antiques & Collectibles has thousands of antiques for sale from stamps to sports memorabilia. You're sure to find something to treasure at Crown Antiques & Collectibles. We'll also appraise and buy your antiques!
Browse our collection of Black Americana and experience its rich history

At Crown Antiques & Collectibles, we have a large collection of Black Americana and African American memorabilia from historical writings and documents to cultural antiques to African American literature.
Much of the collection is of cultural memorabilia that come from historic African American achievements in music, art, literature, and politics. We carry items from the jazz era as well as an extensive collection of Teenie Harris prints.
Find a treasure for yourself or give a unique gift from our collection. Call and ask an associate for more information.
Incredible antique finds for all sports fans and enthusiasts
Are you a sports collector or looking for something to give as a gift? Crown Antiques & Collectibles has a myriad of vintage sports equipment, balls, uniforms, and more that span a range of America's favorite pastimes from football to boxing.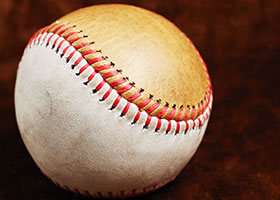 Decades of sports history
Find antique baseball cards, old baseball and football jerseys, collectible bobble heads, team memorabilia, and more. Hockey, boxing, and other sports collectibles are also available.
Popular memorabilia
• Cards
• Programs
• Autographs
• Bobble heads
Are you curious to see how much your collectible is worth? Bring it in and have it appraised (http://crownantiques.com/appraisals/3194420) by one of our sports antique experts.
Explore our section of sports antiquities and find something new for your collection!
Contact us to buy or sell:412-434-6425
Perfect for the collector, shop our assortment of stamps and coins
A large selection of gold and ancient coins
Stop in or shop online to take a look at what Crown Antiques & Collectibles has to offer. We have thousands of gold and silver coins from 3,000-year old Greek and Roman coins to antique US and foreign coins and paper money from the last 2 centuries.
We have collectibles
• US and foreign currency
• Gold coins
• Watches
• Jewelry
• Stamps
Are you looking for something to add to your collection? Visit us today to see the over one million stamps that we've acquired over the years.
Since 1967, we've been collecting rare and unique pieces for your collection. Stop by and see for yourself; you never know what you'll find!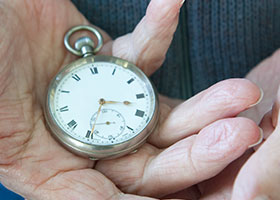 Photography & Artwork

Beautiful antique photos that are like windows into the past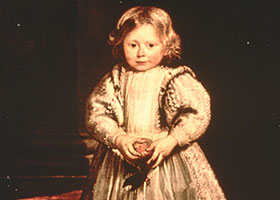 Timeless photos and artwork
Collected from all over the country, Crown Antiques & Collectibles has over a 100,000 old photographs and antique cameras including Kodak. We also have many vintage works of art to explore; you're sure to find something you love.
Vintage cameras
If you're interested in revisiting those days when the art form was ruled by film, visit us. You'll be impressed with our unique collection of our vintage cameras.
Documented history
• Photographs
• Drawings
• Cameras
• Paintings
• Sketchbooks
Discover our collection of rare and antique books
Are you curious about literature of the 1600s? Check out our huge collection of books and other antique documents.
Visit us today and be amazed by our extensive inventory of vintage artwork.
A store of early writings, antique books, references, and documents

Thousands of books and documents
Crown Antiques & Collectibles is stocked with many antique books, magazines, old documents, and more for your enjoyment. Books from all over the world line the shelves of our shop. Are you looking for something specific? Let us help you find it.
Magazines and guides
Turn back time with the turn of a page. Crown Antiques & Collectibles is full of over 100,000 antique magazines, programs, and TV guides that date back to the early 1950s.
See what's available
• Children's books
• Art and sketch books
• Early books (1500s)
• Magazines
• TV guides and theater programs
• National Geographic issues
Early books dating back to the 1500s
Over the years, we've collected many early writings and older literature that dates back to the 16th century. You're sure to come across a great find.
Come in today and leaf through the pages of historical documents, old magazines, and many other antique publications.
Military Antiques

A large selection of military antiques and from unforgettable places in American history
Explore the history of our military with a large collection of hundreds of years old war relics. Crown Antiques & Collectibles currently houses uniforms, war posters, weapons, supplies, and more for the history enthusiast.
Items spanning to 100 years
Antiques dating back to the American Civil War are available in our shop. We also have collectibles of the belongings of military personnel to military supplies from World Wars I and II, the Korean War, and Vietnam War.
War relics
• Supplies and equipment
• Uniforms and badges
• Posters
• Swords and bayonets
• Photographs
• Autographs
Stop by and see General George Patton's funeral guest list and other historic military antiques.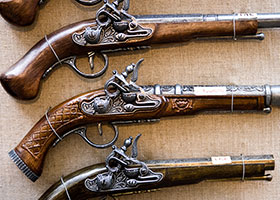 Send a unique vintage card or put up a poster from your favorite decade
Vintage postcards and posters
We have over 100,000 vintage US and foreign postcards in stock ranging in age from 75 – 120 years old. Many old postcards are blank but some bear the writings of mothers, sisters, fathers, brothers, and sweethearts. They are great to collect or send to someone special!
Posters of all kinds
Decorate with vintage posters! We have posters from old Hollywood movies and indie films, music posters, war and patriotic posters, backlight posters, and more!
Antique paper goods
• Holiday cards •Postcards
• War posters • Movie posters
We also carry books and magazines
Add something more to your vintage collection with our books, papers, documents, magazines, TV guides, and more when you shop our antiques.
Autographs by some of your favorite figures in history
We have all kinds of items that have been autographed by great American icons throughout American history. Sports stars, actors, musicians, and more have affixed their signatures to some of the items in our shop.
Movies, sports, and more
Since 1968, we've collected autographed items from historical figures, celebrities, bands and musicians, and sports stars. Stop in or search our online shop and you may come across a find for a fan.
Autographed items
• Posters
• Sports items
• Photos
• Records
• Books
We do appraisals
Do you own an item that has been autographed by a TV or sports celebrity? Are you in possession of an autographed album? Let us appraise it!
Come in today to find a large collection of signed items by great American icons.
Own an item autographed by your favorite celebrity.
Sell us your items and let us appraise your old finds and antiques
Get your items appraised
Are you looking to sell an antique item, or just want to know how much your item is worth? Bring it in and we'll be happy to appraise it for you and advise the best course of action for you whether you want to keep or sell the item.
Trade your unwanted items
If you have an item that you would like to trade for an item of equal or lesser value, we can accommodate you. Simply bring your item or call for an appraisal.
Shop service
• Appraisals
• Buy
• Sell
• Trade
We buy antiques
Learn the value of your old items; you could have an undiscovered treasure!
Have you recently acquired an estate? Have you found an old item that you think may be worth money? We'll buy it! Contact us for your appraisal today!
412-434-6425
You can shop online too