Forest Gardening
Forest gardening is a low-maintenance sustainable plant-based food production and agroforestry system based on woodland ecosystems, incorporating fruit and nut trees, shrubs, herbs, vines and perennial vegetables which have yields directly useful to humans. Making use of companion planting, these can be intermixed to grow in a succession of layers, to build a woodland habitat. Forest gardening is a prehistoric method of securing food in tropical areas. In the 1980s, Robert Hart coined the term "forest gardening" after adapting the principles and applying them to temperate climates.
History
Forest gardens are probably the world's oldest form of land use and most resilient agroecosystem. They originated in prehistoric times along jungle-clad river banks and in the wet foothills of monsoon regions. In the gradual process of families improving their immediate environment, useful tree and vine species were identified, protected and improved whilst undesirable species were eliminated. Eventually superior foreign species were selected and incorporated into the gardens. Forest gardens are still common in the tropics and known by various names such as: home gardens in Kerala in South India, Nepal, Zambia, Zimbabwe and Tanzania; Kandyan forest gardens in Sri Lanka; huertos familiares, the "family orchards" of Mexico; and pekarangan, the gardens of "complete design", in Java. These are also called agroforests and, where the wood components are short-statured, the term shrub garden is employed. Forest gardens have been shown to be a significant source of income and food security for local populations. Robert Hart adapted forest gardening for the United Kingdom's temperate climate during the 1980s. His theories were later developed by Martin Crawford from the Agroforestry Research Trust and various permaculturalists such as Graham Bell, Patrick Whitefield, Dave Jacke and Geoff Lawton.
Seven-layer System
Robert Hart pioneered a system based on the observation that the natural forest can be divided into distinct levels. He used intercropping to develop an existing small orchard of apples and pears into an edible polyculture landscape consisting of the following layers:
Canopy layer' consisting of the original mature fruit trees.
Low-tree layer' of smaller nut and fruit trees on dwarfing root stocks.
Shrub layer' of fruit bushes such as currants and berries.
Herbaceous layer' of perennial vegetables and herbs.
Rhizosphere' or 'underground' dimension of plants grown for their roots and tubers.
Ground cover layer' of edible plants that spread horizontally.
Vertical layer' of vines and climbers.
A key component of the seven-layer system was the plants he selected. Most of the traditional vegetable crops grown today, such as carrots, are sun loving plants not well selected for the more shady forest garden system. Hart favoured shade tolerant perennial vegetables.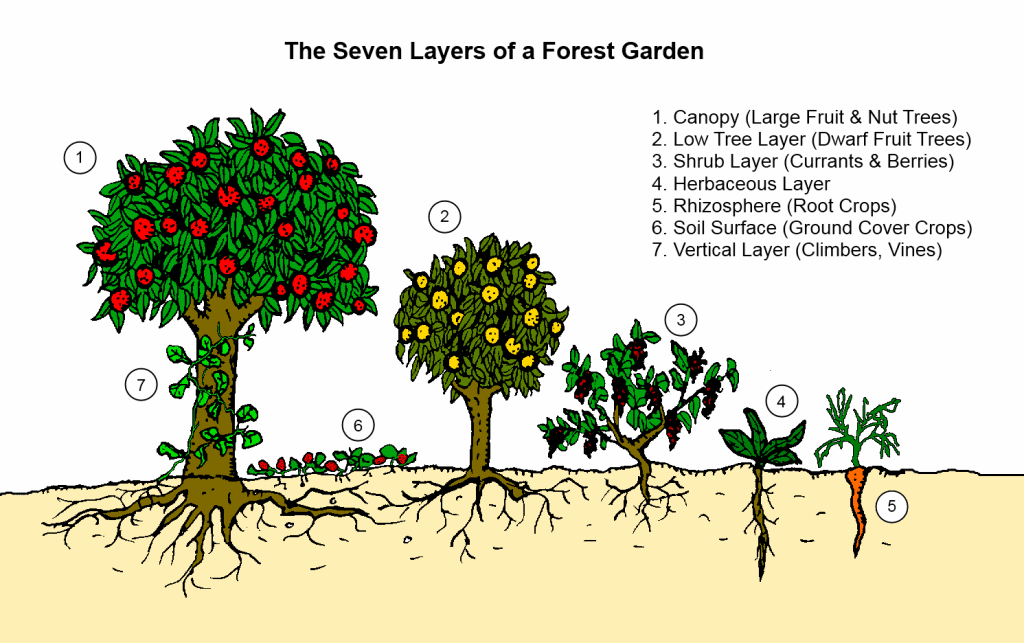 Further Development
The Agroforestry Research Trust (ART), managed by Martin Crawford, runs experimental forest gardening projects on a number of plots in Devon, United Kingdom. Crawford describes a forest garden as a low-maintenance way of sustainably producing food and other household products.
Ken Fern had the idea that for a successful temperate forest garden a wider range of edible shade tolerant plants would need to be used. To this end, Fern created the organisation Plants for a Future (PFAF) which compiled a plant database suitable for such a system. Fern used the term woodland gardening, rather than forest gardening, in his book Plants for a Future.
The Movement for Compassionate Living (MCL) promote forest gardening and other types of vegan organic gardening to meet society's needs for food and natural resources. Kathleen Jannaway, the founder of MCL, wrote a book outlining a sustainable vegan future called Abundant Living in the Coming Age of the Tree in 1991. In 2009, the MCL provided a grant of £1,000 to the Bangor Forest Garden project in Gwynedd, North West Wales.
In 2005, Dave Jacke and Eric Toensmeier's two-volume book Edible Forest Gardens provided a deeply researched reference focused on North American forest gardening climates, habitats, and species. The book attempts to ground forest gardening deeply in ecological science. The Apios Institute wiki grew out of their work, and seeks to document and share the experience of people around the world working with the species in polycultures.
Robert Hart, Horticulturist: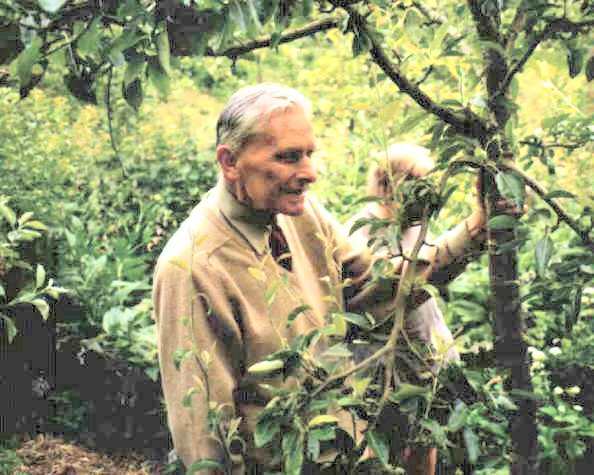 Permaculture
Bill Mollison, who coined the term permaculture, visited Robert Hart at his forest garden in Wenlock Edge in October 1990. Hart's seven-layer system has since been adopted as a common permaculture design element.
Numerous permaculturalists are proponents of forest gardens, or food forests, such as Graham Bell, Patrick Whitefield, Dave Jacke, Eric Toensmeier and Geoff Lawton. Bell started building his forest garden in 1991 and wrote the book The Permaculture Garden in 1995, Whitefield wrote the book How to Make a Forest Garden in 2002, Jacke and Toensmeier co-authored the two volume book set Edible Forest Gardening in 2005, and Lawton presented the film Establishing a Food Forest in 2008.
Austrian Sepp Holzer practices "Holzer Permaculture" on his Krameterhof farm, at varying altitudes ranging from 1,100 to 1,500 metres above sea level. His designs create micro-climates with rocks, ponds and living wind barriers, enabling the cultivation of a variety of fruit trees, vegetables and flowers in a region that averages 4°C, and with temperatures as low as -20°C in the winter.
Projects
El Pilar on the Belize-Guatemala border features a forest garden to demonstrate traditional Maya agricultural practices. A further 1-acre model forest garden, called Känan K'aax (meaning well-tended garden in Mayan), is being funded by the National Geographic Society and developed at Santa Familia Primary School in Cayo.
In the United States the largest known food forest on public land is believed to be the 7-acre Beacon Food Forest in Seattle, WA. Other forest garden projects include those at the Central Rocky Mountain Permaculture Institute in Basalt, Colorado and Montview Neighborhood farm in Northampton, Massachusetts.
In Canada food forester Richard Walker has been developing and maintaining food forests in the province of British Columbia for over 30 years. He developed a 3-acre food forest that when at maturity provided raw materials for a nursery and herbalism business as well as food for his family. The Living Centre have developed various forest garden projects in Ontario.
In the United Kingdom, other than those run by the Agroforestry Research Trust (ART), there are numerous forest garden projects such as the Bangor Forest Garden in Gwynedd, North West Wales. Martin Crawford from ART administers the Forest Garden Network, an informal network of people and organisations around the world who are cultivating their own forest gardens.
Salem Cross Inn's Kitchen Gardens (in Massachusetts):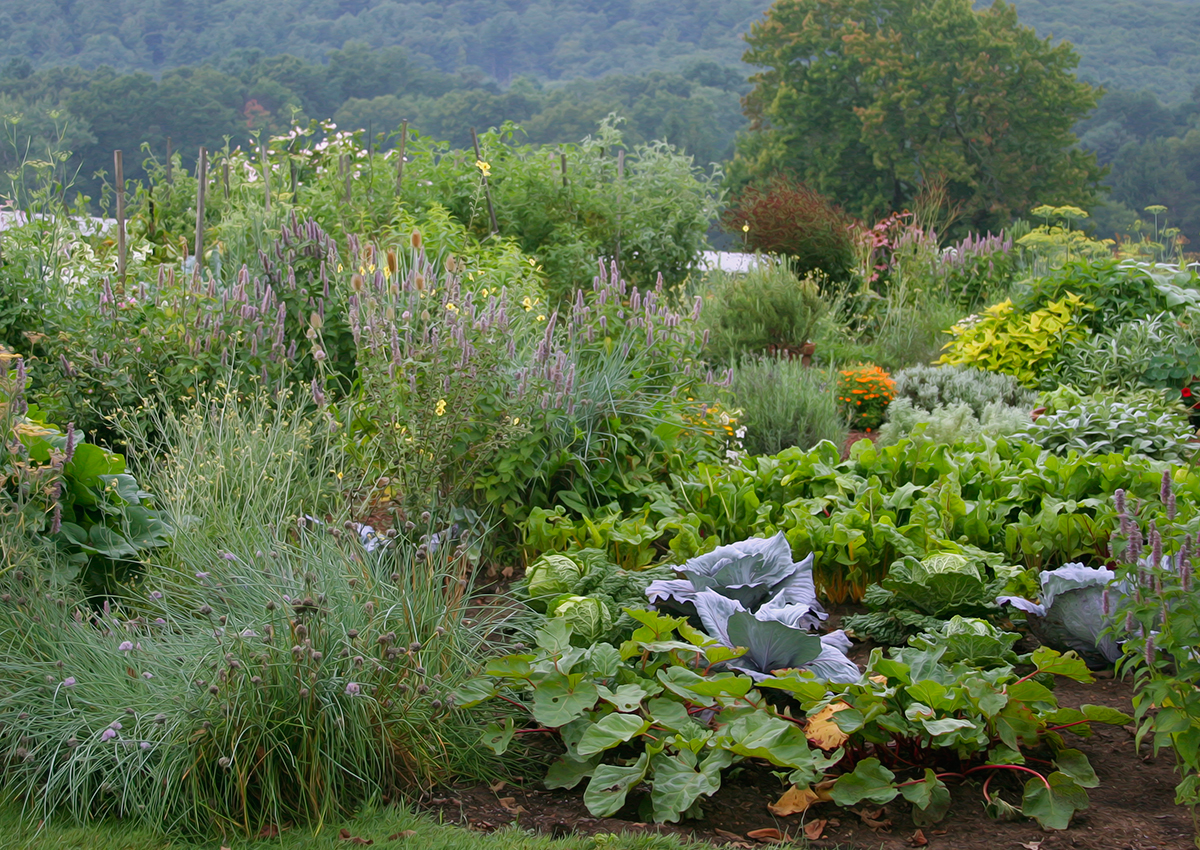 An Urban Food Forest in Sydney, Australia: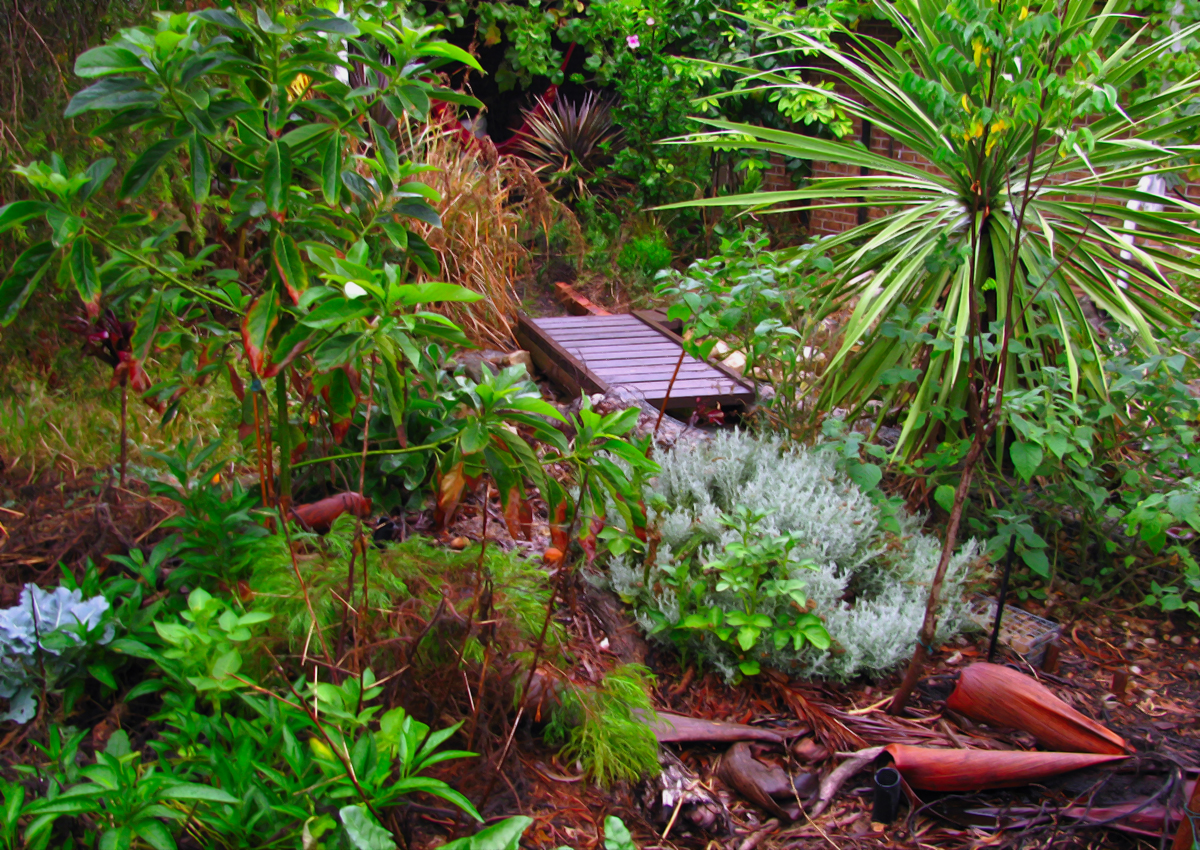 Manhattan's Lenape Edible Estate: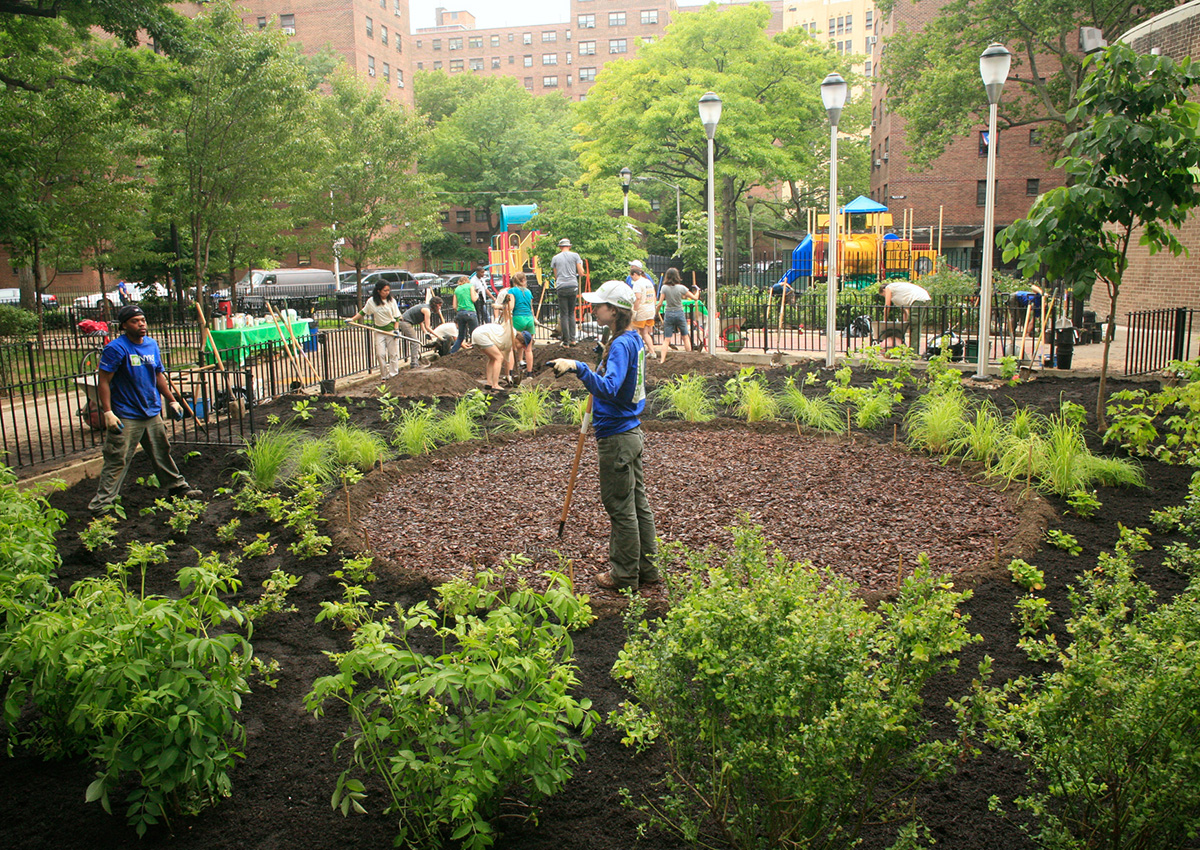 Hale Akua Permaculture Garden Farm in Maui, Hawaii: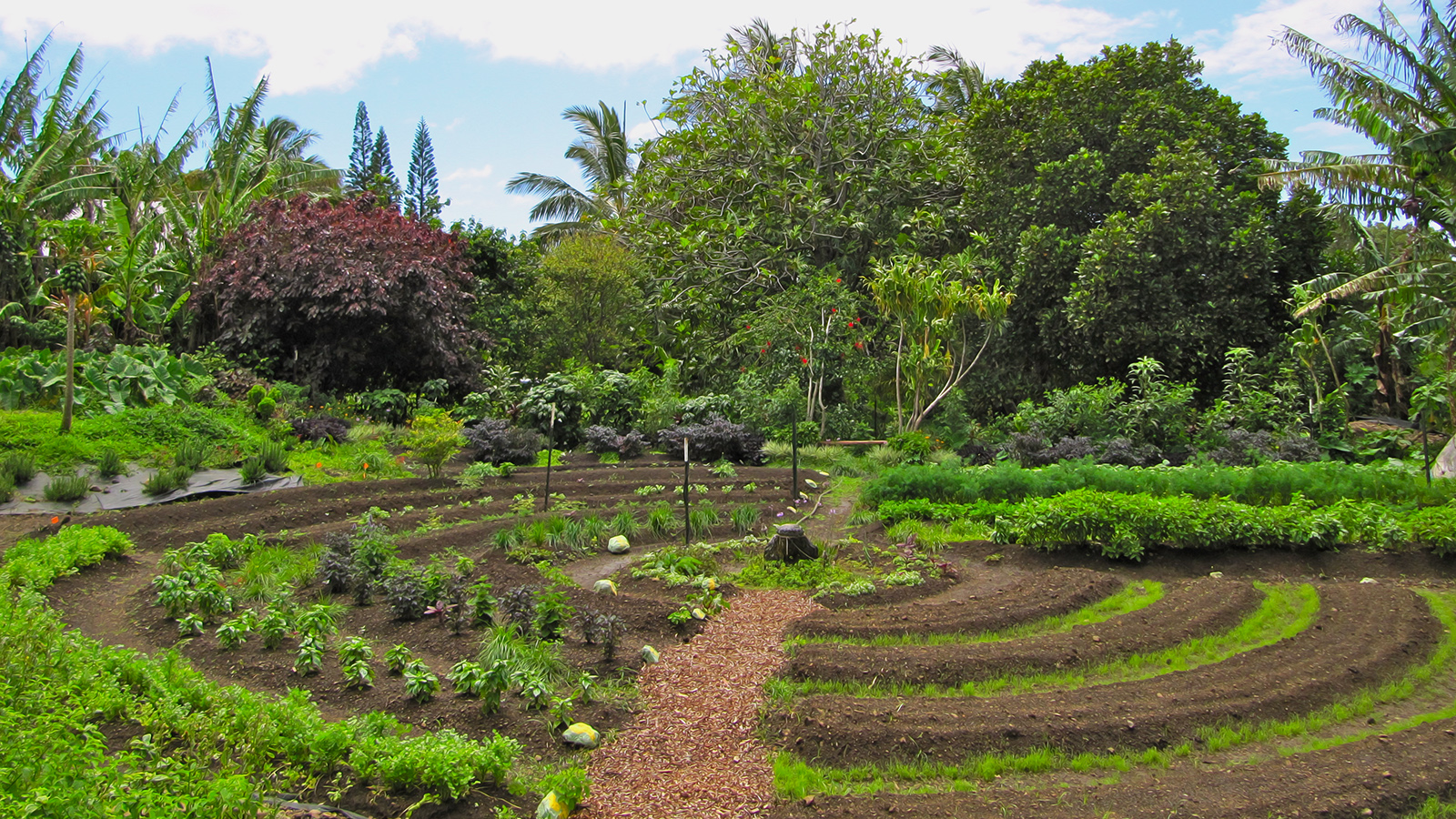 A design outline for a food forest: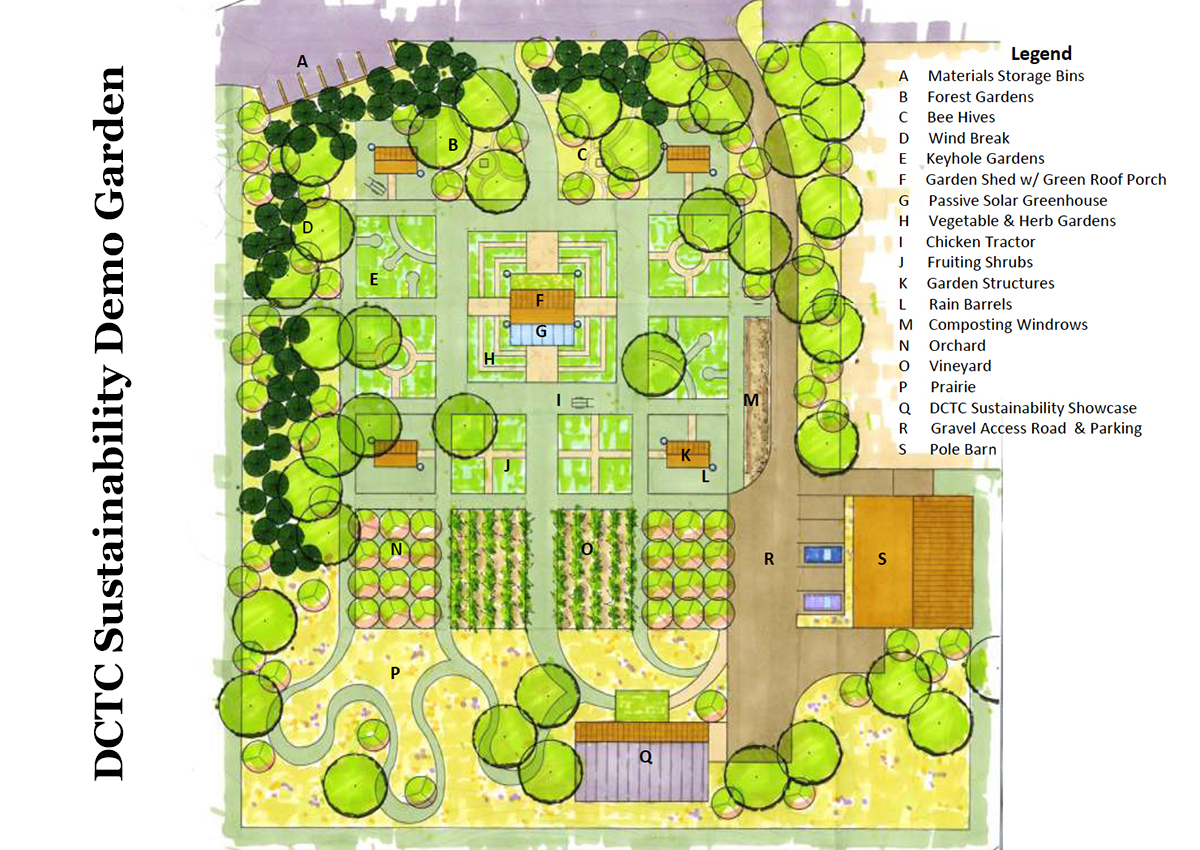 A potager garden in someone's front yard: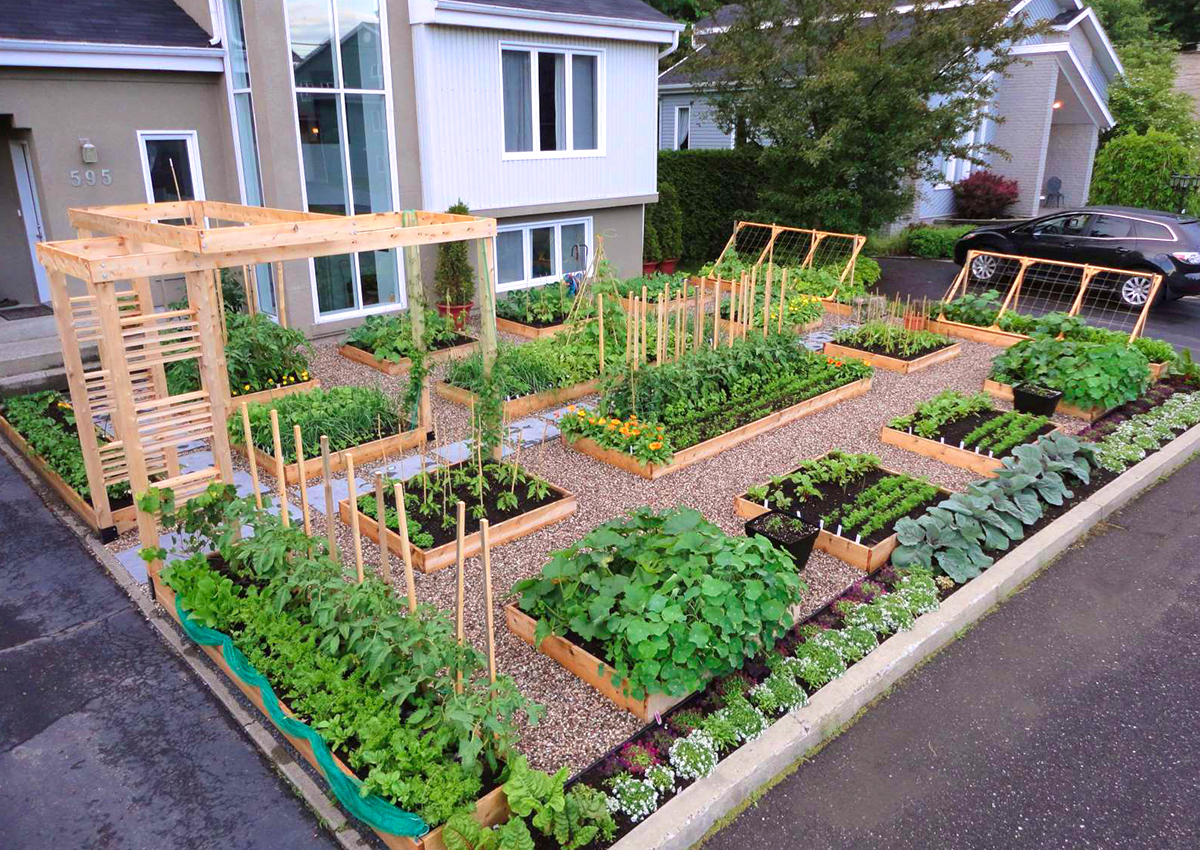 "Broccoli Forest" by artist Carl Warner: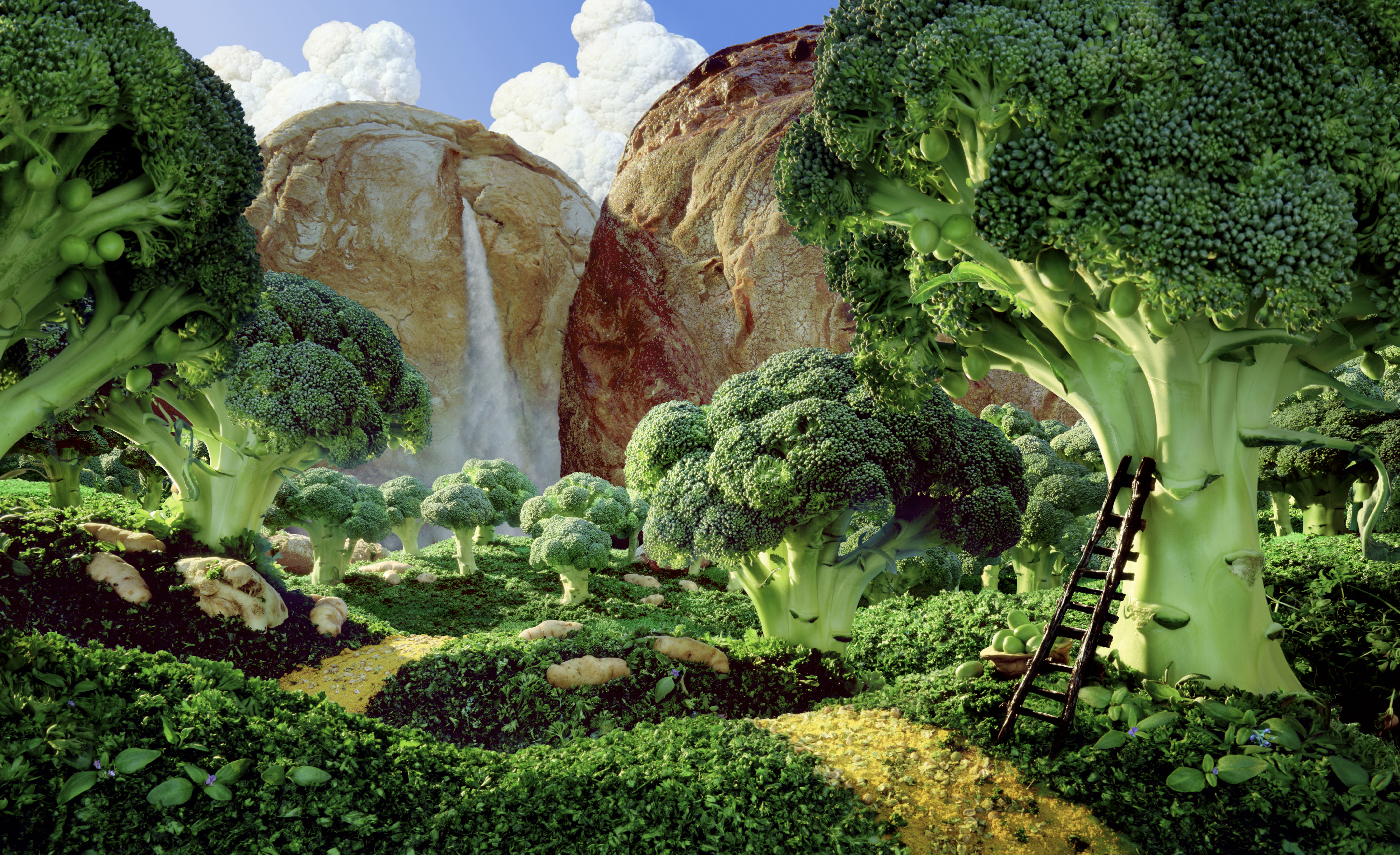 Further reading
Why Food Forests?
The Garden of the Future?
Edible Forest Gardens: an invitation to adventure
8 Best Crops for a Potager
Maya Forest Gardening
Seattle's new 7 acre food forest, Beacon Food Forest
NPR: Seattle's First Urban Food Forest Will Be Open To Foragers
Teaching Sustainable Food Systems