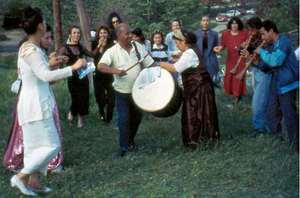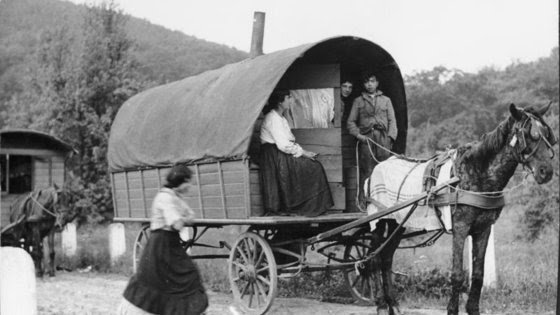 The Roma are an ethnic people who have migrated across Europe for a thousand years. The Roma culture has a rich oral tradition, with an emphasis on family. Often portrayed as exotic and strange, the Roma have faced discrimination and persecution for centuries.
Today, they are one of the largest ethnic minorities in Europe — about 12 million to 15 million people, according to UNICEF, with 70 percent of them living in Eastern Europe. About a million Roma live in the United States, according to Time.
Roma is the word that many Roma use to describe themselves. They are also known as Rom or Romany.
The Roma are also sometimes called Gypsies. However, some people consider that a derogatory term, a holdover from when it was thought these people came from Egypt. It is now thought that the Roma people migrated to Europe from India about 1,500 years ago.
They originated in northern India and by the second half of the 20th century they had spread to every inhabited continent.
Because of their migratory nature, their absence in official census returns, and their popular classification with other nomadic groups, estimates of the total world Roma population range from two million to five million. No significant statistical picture can be gained from the sporadic reporting in different countries. Most Roma were still in Europe in the early 21st century, especially in the Slavic-speaking lands of central Europe and the Balkans. Large numbers live in Romania, Bulgaria, Serbia, Montenegro, Macedonia, Croatia, Bosnia and Herzegovina, Slovenia, the Czech and Slovak republics, and Hungary.
All nomadic Roma migrate at least seasonally along patterned routes that ignore national boundaries. They also follow along a chain, as it were, of kin or tribal links. The Roma's own supposed disposition to wander has been forcibly furthered by exile or deportation. Only 80 years after their first appearance in western Europe in the 15th century, they fell under the penalty of banishment in almost all the nations of western Europe. Despite their systematic exile, or transportation abroad, however, they continued to reappear in one guise or another back in the countries they had left.
All unsettled confederations who live among settled peoples seem to become convenient scapegoats. So it is with the Roma, who have regularly been accused by the local populace of many evils as a prelude to later official and legal persecution. Their relations with the authorities in the host country have been marked by consistent contradiction. Official decrees were often aimed at settling or assimilating them, yet local authorities systematically refused them the bare hospitality of a campsite. During the Holocaust the Nazis murdered an estimated 400,000 Roma. French laws in modern times forbade them campsites and subjected them to police supervision, yet they were taxed and drafted for military service like ordinary citizens. Spain and Wales are two countries often cited as examples where Roma have become settled, if not wholly assimilated. In modern times the socialist countries of eastern Europe attempted programs of enforced settlement to end Roma migration.
Traditionally the Roma have pursued occupations that allowed them to maintain an itinerant life on the perimeters of settled society. The men were livestock traders, animal trainers and exhibitors, tinkers (metalsmiths and utensil repairmen), and musicians; the women told fortunes, sold potions, begged, and worked as entertainers. Before the advent of veterinary medicine, many farmers looked to Roma livestock dealers for advice on herd health and husbandry.
The archetypal Roma family consists of a married couple, their unmarried children, and at least one married son, his wife, and their children. Upon marriage, a young couple typically lives with the husband's parents while the young wife learns the ways of her husband's group. Ideally, by the time an older son is ready to move away with his family, a younger son will have married and joined the household with his new wife. Although the practice had declined significantly by the late 20th century, marriages traditionally were arranged by the elders in the family or band (vitsa) to strengthen political and kinship ties to other families, bands, or, occasionally, confederations. A central feature of Roma marriages was the payment of a bride-price to the parents of the bride by the parents of the groom.
Gypsy chieftains (voivodes) are elected for life from among outstanding families of the group, and the office is not heritable. Their power and authority vary according to the size of the band, its traditions, and its relationships with other bands within a confederation.
It was the voivode who acted as treasurer for the whole band, decided the pattern of its migration, and became its spokesman to local municipal authorities. He governed through a council of elders that also consulted with the phuri dai, a senior woman in the band. The phuri dai's influence was strong, particularly in regard to the fate of the women and children, and seemed to rest much on the evident earning power and organization of the women as a group within the band.
Strongest among Roma institutions of social control was the kris, connoting both the body of customary law and values of justice as well as the ritual and formation of the tribunal of the band. Basic to the Roma code were the all-embracing concepts of fidelity, cohesiveness, and reciprocity within the recognized political unit. The ultimate negative sanction of the kris tribunal, which dealt with all disputes and breaches of the code, was excommunication from the band. A sentence of ostracism, however, might exclude the individual from participation in certain band activities and punish him with menial tasks. In some cases rehabilitation was granted by the elders and followed by a feast of reconciliation.
Bands are made up of vitsas, which are name groups of extended families with common descent either patrilineal or matrilineal, as many as 200 strong.
Spiritual beliefs
The Roma do not follow a single faith; rather, they often adopt the predominant religion of the country where they are living, according to Open Society, and describe themselves as "many stars scattered in the sight of God." Some Roma groups are Catholic, Muslim, Pentecostal, Protestant, Anglican or Baptist.
The Roma live by a complex set of rules that govern things such as cleanliness, purity, respect, honor and justice. These rules are referred to as what is "Rromano." Rromano means to behave with dignity and respect as a Roma person, according to Open Society. "Rromanipé" is what the Roma refer to as their worldview.
Language
Though the groups of Roma are varied, they all do speak one language, called Rromanës. Rromanës has roots in Sanskritic languages, and is related to Hindi, Punjabi, Urdu and Bengali. Some Romani words have been borrowed by English speakers, including "pal" (brother) and "lollipop" (from lolo-phabai-cosh, red apple on a stick).
The Roma today
While there are still traveling bands, most use cars and RVs to move from place to place rather than the horses and wagons of the past.
Today, most Roma have settled into houses and apartments and are not readily distinguishable. Because of continued discrimination, many do not publicly acknowledge their roots and only reveal themselves to other Roma.
While there is not a physical country affiliated with the Romani people, the International Romani Union was officially established in 1977. In 2000, The 5th World Romany Congress in 2000 officially declared Romani a non-territorial nation.
During the Decade of Roma Inclusion (2005-2015), 12 European countries made a commitment to eliminate discrimination against the Roma. The effort focused on education, employment, health and housing, as well as core issues of poverty, discrimination, and gender mainstreaming. However, according to the RSG, despite the initiative, Roma continue to face widespread discrimination.
According to a report by the Council of Europe's commissioner for human rights, "there is a shameful lack of implementation concerning the human rights of Roma … In many countries hate speech, harassment and violence against Roma are commonplace."
Edited from the Encyclopedia Brittanica Roma article online as well as from https://amp.livescience.com/44512-gypsy-culture.html