Interview and article written by Gedaliah Aronson – Journalist for One World Blue
Roger Humphries is a living jazz legend. He is the bearer of the torch of the music, and a long-standing pillar of Pittsburgh's illustrious and continuous contribution to America's art form.

"People have all kinds of ideas about what others should do or not do with their lives. You can do whatever you wanna do in life; you just gotta go for it. Often, this takes the strength of the mind not to be discouraged by other people's opinions."
– Roger Humphries
Roger grew up in a large and extremely musical family. At the age of 3-1/2, his family already recognized his talent and aptitude for the drums. Roger's uncle Frank Humphries, a multi-instrumentalist and veteran jazz recording artist, was undoubtedly a significant influence on Roger.
At the age of just 4-1/2, Roger sat in with the Tab Smith Big Band, who Frank Humphries was working with at the time. Roger was encouraged by his older brothers to hone his craft and harness his gift.

By the age of 14, Roger was playing professionally, and at just 16 years old, he led his own band at Carnegie Music Hall in Pittsburgh. His drumming was strongly recognized by his elders, who kept a close and exciting eye on his development.
At 16 as well, Roger had already met and sat in with two of his biggest influences, and two of the most celebrated drummers in jazz history, Max Roach and Art Blakey.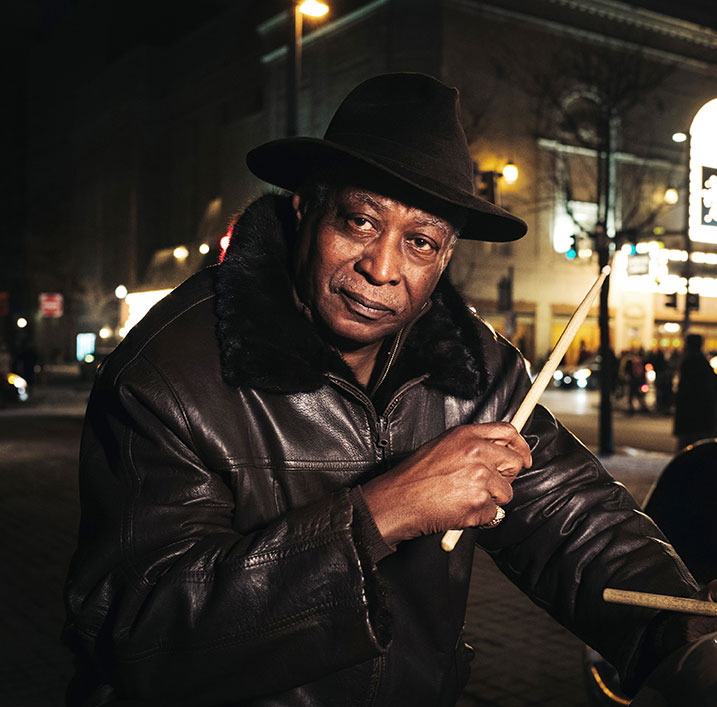 "My early concept of what my sound would be was to combine the elements that I loved of three of my biggest drumming influences, Max Roach, Buddy Rich, and Art Blakey. I've had a love of music for as long as I can remember, and I listen to and learn from everything."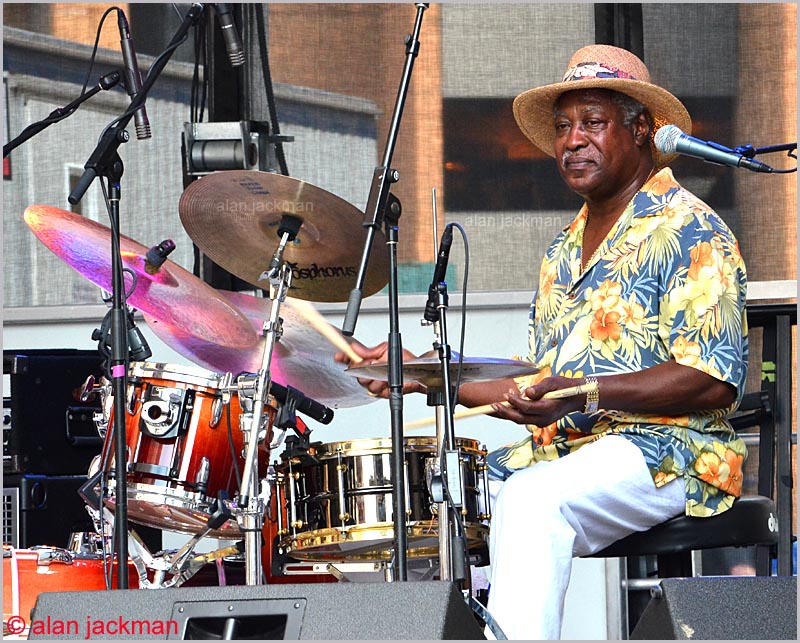 In 1962 at the age of 18, Roger was recruited by the great Tenor Saxophonist and fellow Pittsburgh native, Stanley Turrentine. Turrentine was married to organist Shirley Scott, and it was in this context that Roger joined their group.
From there, in 1964, Roger went to New York to audition for the legendary Horace Silver and landed the job with Horace's quintet. Also auditioning for Silver at that time was another drummer who would also rise to international acclaim, Billy Cobham. Cobham would go on to play with Miles Davis and was later recruited by another Davis disciple, John McLaughlin, for his new fusion concept called The Mahavishnu Orchestra.
"Horace heard in me the sound he was looking for at that time. It's not important to be preoccupied with being "the best in the world," which is a very subjective thing. I was given a gift, and I honed my craft, and I'm extremely grateful for the blessing of music."

While with Silver, Roger toured Europe twice and appeared at the Monterey Jazz Festival. There, Humphries was interviewed by renowned jazz writer Leonard Feather. A summary of that interview is included in the Encyclopedia of Jazz in the Sixties.

Roger recorded three albums while working with Horace Silver. They were "Song For My Father," "Cape Verdean Blues," and "Jody Grind." The Song For My Father Album is one of the most legendary of our time, still being played by most jazz radio station as a popular hit. His tenure with the great Horace Silver lasted a little over three years from 1964 through 1967.
During the recording of these albums, he played with such giants as Joe Henderson, James Spalding, and Tyrone Washington (saxophone), Teddy Smith, and Larry Ridley (bass), Woody Shaw, and Carmell Jones (trumpeters) and J.J. Johnson (trombone).

In 1965, Roger recorded with the great trumpeter Carmell Jones, for the album called "Jay Hawk Talk." He has also recorded with such artists as Geri Alan, Herbie Mann/Phil Woods, Richard Groove Holmes, Kenny Blake, Frank Cunimondo, Dwayne Dolphin, and Nancy Wilson (2004 Christmas CD.) He also appeared on Oprah Winfrey and Bryant Gumbel's TV show with Nancy Wilson.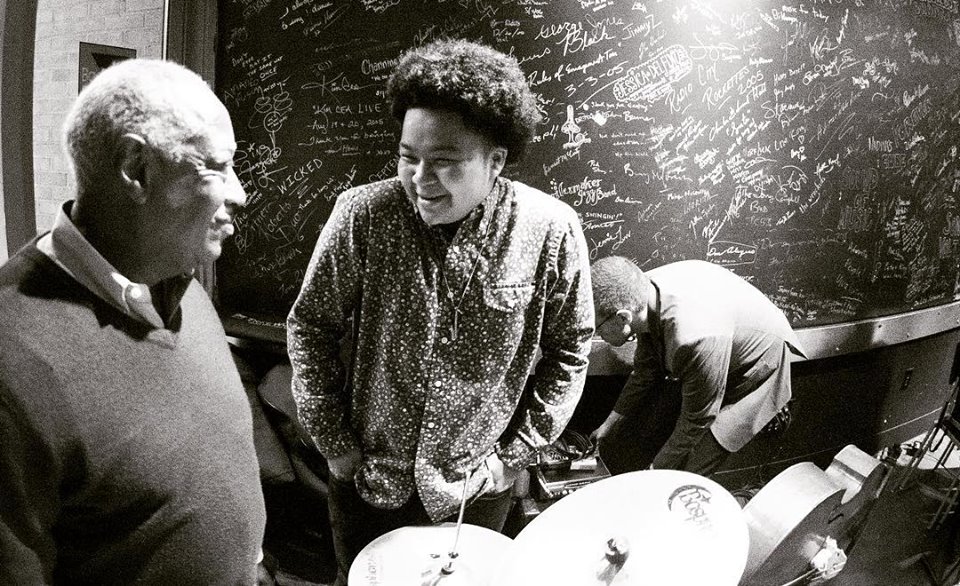 Roger is widely considered as one of the most exciting percussionists in the business. He has provided the rhythmic beat for such greats as: Ray Charles, Horace Silver, Richard "Groove" Holmes, Stanley Turrentine, James Moody, Lee Morgan, Dr. Billy Taylor, Benny Green, Lionel Hampton, Coleman Hawkins, Clark Terry, J.J. Johnson, Dizzy Gillespie, George Benson, Jon Faddis, Slide Hampton, Randy Brecker, Joe Williams, Milton Jackson, Jimmy Smith, Jimmy Witherspoon, Nathan Davis, Pete Henderson, Don Patterson, Gene Harris, Grant Green, George Harris, Freddie Hubbard, Bill Doggett, Jack McDuff, and a long list of great musicians that seems endless.
After playing with various groups around the country, ace drummer Roger Humphries decided to organize his own group. in 1972 he formed RH Factor and in 1996 he assembled Roger Humphries' Big Band. Roger gives special thanks to Dr. Harry Clark, principal of The Pittsburgh High School for the Creative and Performing Arts (CAPA) who has allowed him to have such a beautiful experience teaching the kids at the school.
The late Dr. Nathan Davis also gave Roger an opportunity to teach and share with the students at the University of Pittsburgh. Roger has influenced the careers of a number of his students and musicians also through participation in a number of clinics such as the, Slippery Rock University Summer Jazz workshop, Mellon Jazz Masters Class and Concerts and the teaching goes on especially on the stage.
Roger Humphries continues to be a beacon of light in the world of music, and education. He is not only one of the most celebrated drummers in jazz history till today, he is a tower of strength, inspiration, generosity, and kindness to all who know him and know of him.
May the Almighty bless Roger with great health, happiness, strength, long life and endless music. If you are a music fan, make your way to Pittsburgh and catch Roger wherever and whenever you can.