Friends! Yinzers! Co-conspirators in Patriotic Magic! Fellow lovers of jazz and bellydance and burlesque and everything that makes life worth living!!!! I am happy to know you! I am happy that we are connected, even if it's sometimes only through the digital ether we know of as the inter webs!
I don't write enough. In this modern age, we who began our journey hitch hiking on the "information superhighway" are sometimes (maybe I am just speaking for myself here, but I doubt it) are sometimes overwhelmed with the immense connectivity of it all. Everything is a tweet of one hundred forty characters or less and has a sparkling animation and a hyperlink to somewhere else…. And I am guilty as anyone. I instagram. I tweet. I facebook. Sometimes I dream of myspace, Tribe and Friendster and simpler times… I even remember actually writing cards and letters. I also remember beepers and pay phones…. but lest we fall too much into nostalgia, I must say, I also love the new stuff. I love making music with people all over the world. I love writing something in one place and then emailing someone else in Los Angeles or Dublin and having them send me a track back. I love being able to load my music onto a small device and have the carefully and passionately composed tracks play out of speakers that I get to sing to, and I dream of the days when I can actually take when whole band with me….
ABOUT THE ARTIST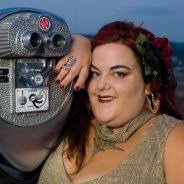 Phat Man Dee is a cosmic jazz cabaret vocalist, bandleader, events producer, videographer, poet and part time sideshow marvel. She regularly appears with both her jazz group "The Cultural District", the sideshow burlesque group "Kabarett Vulgare" and in "The Lemington Gospel Chorale" directed by Pastor Deryck Tines. She performs live approximately 100 dates a year in nightclubs, theaters, educational facilities, private events and festivals. She has been voted in the Pittsburgh City Paper's Readers' Polls of 2010-2015 as one of the top 3 local jazz acts. Phat Man Dee's passion for social justice is evidenced by the number of events she has performed for, and organized, to raise funds for and build awareness of important social issues like fighting racism, pursuing environmental justice and peace. In addition to her live performances, Mandee also teaches voice to young people through two musical programs, the We Rock Workshop, directed by Liz Berlin of Rusted Root and Creative Life Support, and the Afro American Music Institute, directed by Dr James Johnson and his wife Pamela Johnson, currently celebrating 33 years in existence.
Frank DeBlase of Rochester, NY's City Paper had this to say about Mandee: "This woman is as zaftig as she is zany. It's the perfect marriage of a beautiful voice and a twisted mind, kind of like Karen Black in a more cabaret setting. But it isn't all high-brow low-jinx; Phat Man Dee has a set of powerful pipes behind her exquisite phrasing."
Phat Man Dee is an old-fashioned jazz torch singer with a number of new twists. She sings & duets her original compositions and eclectic repertoire of standards in English, Spanish, French and sometimes German and Hebrew. Her performance range is just as wide, spanning opera, theater and burlesque. From blues to filk, from opera to indie, Mandee's range is nothing short of breathtaking. Her CDs include "Life Just Goes On", "Torch of Blue" and "Merry ChristmaChannaKwanzaa Vol 1.1" and "Hey Phat Chick! (Ya Got it Comin' to You!)" During the summer of 2015, Phat Man Dee spent a glorious summer exploring the hither, the thither and the yon, in a massive 12 country, 15 city tour of Europe, shooting season one of the currently in post production, "Take it to the Bridge with Phat Man Dee"!