The Tahitians, or Maohis, are indigenous peoples of Tahiti and thirteen other Society Islands, as well as the modern population of these lands of mixed ancestry (French: demis). The Tahitians are one of the most significant indigenous Polynesian peoples of Oceania.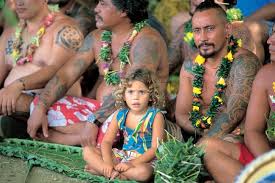 The original Tahitian society was unaware of metal as it was based on Stone Age technology. However, it enabled Tahitians to clear land for cultivation on the fertile volcanic soils and build fishing canoes, their two basic subsistence activities.[2] The tools of the Tahitians when first discovered were made of stone, bone, shell or wood.
The Tahitians were divided into three major classes (or castes): ari'i,[3] ra'atira and manahune.[4] Ari'i were relatively few in number while manahune constituted the bulk of population and included some members who played essential roles in the society.[5] It is estimated that by the first contact with Europeans in 1767 the population of Tahiti was no more than 40,000 while other Society Islands held probably 15,000-20,000 natives.[6]
Tahitians divided the day into the periods of daylight (ao) and darkness (pō).[7] There was also a concept of irrational fear called mehameha, translated as uncanny feelings.[8] The healers, familiar with herbal remedies, were called ta'ata rā'au or ta'ata rapa'au. In the 19th century Tahitians added the European medicine to their practice. The most famous Tahitian healer Tiurai, of ari'i, died aged 83 during the influenza outbreak on Tahiti in 1918.
Retrieved from:
https://en.wikipedia.org/wiki/Tahitians